Shoes: Boot of my dreams
I have a secret...as a shoe-o-holic I have failed. Not only have I not bought shoes in...I can't remember how long (I'm thinking before we moved), but I haven't had any kind of healthy shoe lust.
I began thinking that maybe I had finally hit my limit (240+), that maybe I just didn't need another pair of shoes. But I knew that was a lie, because I have two types that I desperately want (grey heels and a low heeled boot). Nothing has caught my eye and trust me I was looking.
Then everything changed tonight. We went to a department store and into their shoe clearance area. I never expect much, because it always feels like size 9+ is shopped out. As I dug through the piles I saw something peaking out.
There they were...my dream "low heel" boots.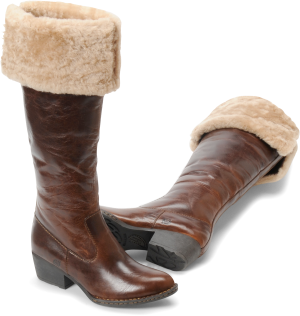 Say hello to
Born's Clemens boots
. I seriously wandered around with the one boot on for 15 minutes (they only had the right boot out). The whole inside of the boot is covered in shearling.
Mmmmmm.
Please excuse me while I drool.
They are exactly what I have been looking for and of course they are Born. Which means I could wear them all the time. Yes please.
No please to the price though. I'm going to have to keep watching for them to go on sale.
Please let them go on sale. I want them. No...I'll go one further...I need them!