Fashion: Monday Shoes
Today's shoe is from Kate Spade. I actually needed a hot pink shoe to match a dress (all of the pink shoes I have were either off in color or not dressy enough). I went on the search and let me tell you, when you are looking for something specific you can almost never find it (especially living here). I didn't want to have to resort to going online to get a shoe, because we all know how off colors can be on our computer screens.
In a last ditch effort I went to Marshalls. Now while I love said store and have found many an amazing shoe there, it's not exactly the place I'd go when I have something very specific in mind. Low-and-behold they had the perfect shoe. I snatched it up and took it home, the match to the dress was perfect! Sadly, in the end, I never got to use the dress (long story), so now I need to find the perfect outfit for these shoes. Don't you worry, it will happen!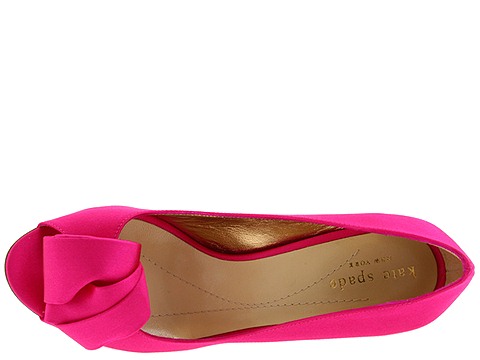 Stats:
Designer: Kate Spade
Name: Clarice
Color: Hot pink
Material: Satin
Heel: 3 1/4 inch
~You can still find this heel all over (it's very popular as a wedding shoe). I know you can get it in the pink, black and I believe a white. I found that
Zappos
has the pink and black.