How I met my house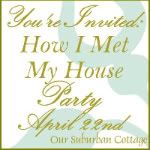 There's a party going on over at
Our Suburban Cottage
...the How I Met My House Party! I just had to play. I'm going to be a little different and not introduce you to the current house we live in, but the home I own in Colorado.
A lot of you may not know that I have owned a home in Colorado Springs, CO for over three years. I bought my home just a few short months after my mom passed away. I was 23 and ready to be out of the house (for many many many reasons). Being single meant that I wanted something smaller. Who knew how long I was going to be single...apparently not long because I started dating Nate in September and moved into my house in October. At first I was really stuck on living in an older home (1950 and earlier). It wasn't the smartest plan as it was going to be my first home and I probably wasn't going to keep an old home properly maintained. I started looking at newer houses when I came across this cute, yet very suburban home.
I was sold just by the outside. My Realtor made quick work of getting me in to see the house. My first step in and I knew it was the perfect first house for me.
Walking into the house I was greeted by stairs, a view of the loft and the living room. It was an amazingly open house with tons of natural light.
The kitchen was at the back of the house, but looked into the living room.
I cannot count how many times I rammed my head into that damn light. It found my head every. single. time I went over to look at the house. It was the first thing to go when I moved in.
The area next to the kitchen was the dinning room...that light fixture also went, as it was just as evil as the fixture in the kitchen.
When I moved in the dinning set was one of the nicest pieces I had. You can also see the new light fixture...which I made from a metal basket that I bought at Pier 1. The wall to the right, which divided the kitchen from the living area is the wall that I striped.
I decided to stripe that wall to make it stand out and make the space its own (the stuff in the picture is not mine). When I get back to the house I may paint the wall with the window as well to make it more of a "room".
Upstairs there is a nice sized loft and two bedrooms. The door in the picture is the master bedroom.
I didn't get to do a lot to the house, because soon after buying it Nate asked me to move with him. Which of course led to the proposal and marriage. I decided to keep the house and rent it out to a friend. I always had the hopes of us moving back to Colorado, but never knew when or if that would happen. I think part of me couldn't give up Colorado and how much I wanted it to still be my home.
We just recently found out that me keeping the house was a great idea, because within two years we will be moving back to Colorado for Nate's job. I am beyond excited that we will be back in Colorado and that we have a house to come back to. I'm also very excited to make it ours and to actually...really live in it! There's so much I want to do with the place. Wood floors...tile in the kitchen, entry and bathrooms...redoing the kitchen and yard. By no means will it be our forever home, but it's ours and I can't wait to get back to it!
How did you meet your home (wherever you live)?